Univac Tubecrafts Private Limited

F - 10, Industrial Area, Udyog Nagar, Rohtak Road, New Delhi - 110041, India;                Telefax : +91-11- 4571 8480, 2525 7082.

Mobile - +91-81304 71841 , 88268 11892;            Email : univacgroup@gmail.com

Yoga Jewelry :-   "Must have for every person that practices yoga"

Ohm Shanti ......

Yoga Jewelry is started through our own need to develop and maintain a daily yoga and meditation practice. We are dedicated on designing high-quality jewelry and gifts to inspire people who practice yoga. Yoga Jewellery is designed specifically for sale in yoga & fitness studios, alternative health & spiritual centers and other new age businesses.


<<< YJ 01 - 18.95 $

Lotus Pose (Padma-asana) - 2.5cm

Lotus pose is a yoga classic and is the most recognized poses, even outside the yoga community.

The padma-asana facilitates relaxation, concentration and ultimately, meditation. The posture creates a natural balance throughout the body/mi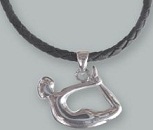 <<< YJ 02 - 18.95 $

Bow pose (Dhanur-asana) - 2.5cm

The Sanskrit word dhanur means bow-shaped, curved or bent. This asana is so named because the body mimics the shape of a bow with its string stretched back ready to shoot an arrow.

The most obvious benefit of the dhanur-asana is that it restores flexibility to the spine. Regular practice will relieve lower back pain and release tension and strain in the upper back and neck area.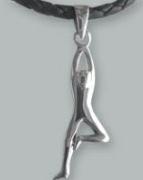 <<< YJ 03- 16.95 $

Tree pose (Vriksha-asana) - 2.5cm

The Sanskrit word vriksha means tree, thus this is the Tree Posture. The challenge of the vriksha-asana is maintaining balance on one leg. Poor balance is often the result of a restless mind or distracted attention.

Regular practice of this posture will help focus the mind and cultivate concentration.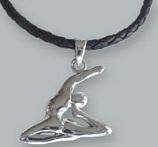 <<< YJ 04- 18.95 $

Pigeon pose - 2.5cm

This pose delivers great benefits for the back, arms, chest, legs and hips. Regular practice will strengthen concentration and improve balance.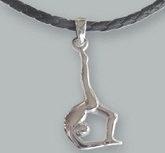 <<< YJ 05- 16.95 $

Upside Bow Pose - 2.5cm

This pose strengthens the shoulders, arms, and back. Stretches the shoulders and neck, chest, and belly. Improves sense of balance. Calms the brain and helps relieve stress and mild depression


Note : All the above prices are with SSilver Penedent only * For Golden Pendents-  extran (as actual ) depends upon gold price*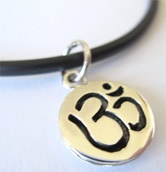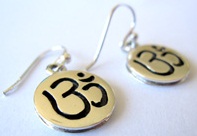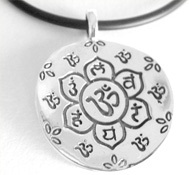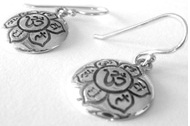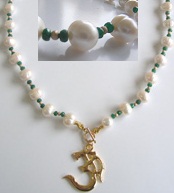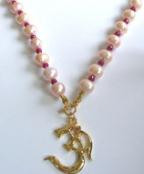 YJ 11 - 79.95 $




YJ 12 - 79.95 $
Sterling Silver (Gold plated) Om Pearl and Ruby Pendant Necklace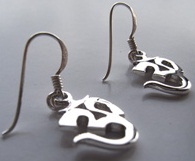 "Meaning of Om"

Om (Aum) means universal truth and knowledge. In saying Om, everything is encompassed independent of time. Om is the essence of all that is sacred. One of the most powerful and widely used mantras in Hindu and Buddhist traditions, Om is chanted at the beginnning of medition, prayer and yoga among others.

Jewellery Details

Om jewellery is made of Elegant and high quality solid and genuine Sterling Silver. They are available in Pendant, Earring and Charms